---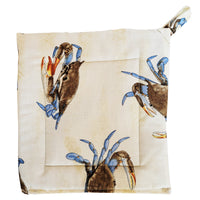 Potholder Square 7" - Natural Blue Crabs on White Background
BCL2681b
Locally sewn square potholder with a natural blue crab design.  Includes a small hanging loop. Padded and perfect for use as a potholder or on your table as a trivet. Sewn just for our store! Quantities are limited.

Machine washable.
Natural blue crabs on a white background.
Cotton. Approx. 7" square.