---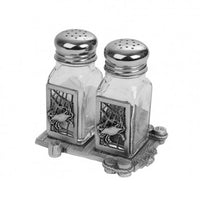 Crab Salt & Pepper Shaker Set With Pewter Dock Base
BCL0511
This salt & pepper shaker set is perfect for crab lovers!  Each shaker has a pewter medallion on the front that features a blue crab in a net.  The set comes with a pewter dock base that looks like a real dock with pilings, boards, and rope.  Glass shakers have metal screw tops.
Great for everyday use or for those special occasions.  Perfect for a beach home.

The included blue gift box makes this set a really fine gift item for your family or friends.  A great wedding present!
Dock base is 4 1/4" long x 3 1/4" wide. Shakers are 4" tall.